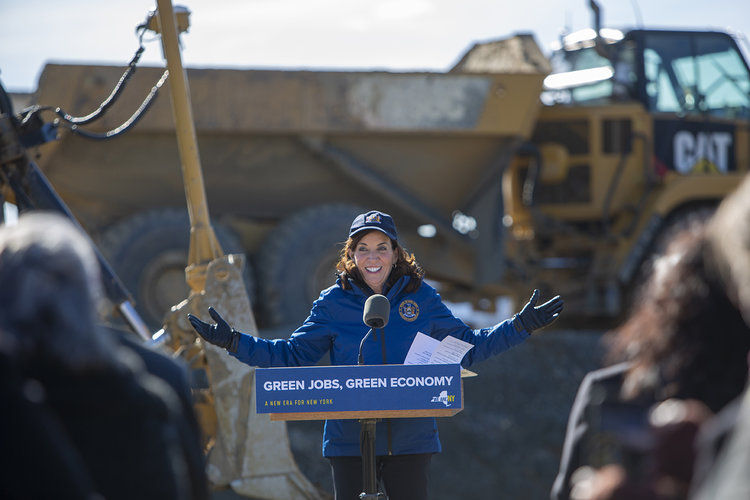 At the inauguration of Plug Power, Hochul pushes for green independence
ALBANY COUNTY — Governor Kathy Hochul pushed her green agenda Tuesday afternoon at a construction site at Vista Technology Park where Plug Power is building a 350,000 square foot facility.
The $55 million project benefits from $45 million in tax relief and will "create jobs and opportunities leading to a much brighter and greener future," Hochul said.
Hochul has linked the state's green initiatives to the need for energy independence as Russia's attack on Ukraine has highlighted the United States' dependence on foreign sources of oil.
She said the OPEC (Organization of the Petroleum Exporting Countries) oil crisis had had a "profound impact" on her when she was just starting to drive.
The 1973 crisis was caused by OPEC targeting countries, including the United States, which had supported Israel during the Yom Kippur War. The price of oil has increased by 300%.
"We were captive to foreign energy sources," Hochul said. "We were literally brought to our knees. You couldn't buy gas when you wanted at the pump and the prices skyrocketed.
She stressed the importance of green energy initiatives as a way to be independent of imported oil.
With Russia's current "illegal invasion" of Ukraine, Hochul said, "We all need to stand together against this aggression, but also do what we can, our part, to make sure Russia understands. that there are consequences to what she did. We don't want Russian oil in this country as they continue their aggressive behavior towards their neighbors.
She noted the state was divesting from investments in Russian businesses and said New Yorkers would open their "hearts and homes" to Ukrainian refugees.
New York State, Hochul said, will become an international leader in green initiatives. "We have no choice…. This is what's going to happen to our children and our children's children in the future," she said of What Matters.
The Company – Michael Koff
Albany County Executive Daniel McCoy, Nova Scotia Supervisor Douglas LaGrange, Bethlehem Supervisor David VanLuven and State Senator Neil Breslin were among those breaking new ground.
---
"From concept to reality"
"This hub is one of the reasons we're here," said Andy Marsh, President and CEO of Plug Power, who was the first speaker at Tuesday's event.
Vista Park is located primarily in Bethlehem and partly in Nova Scotia.
Bethlehem supervisor David VanLuven told the crowd that he had a background in ecology and was used to green spaces. As he stood on the sandy site with a bulldozer behind him, he said such projects were essential to protect communities from climate change.
"The role of government is to get things done," VanLuven said, thanking city, county, state and federal governments for working together to get the project "from concept to concrete in five months".
"The future is green," VanLuven said, noting that the Plug Power project, combined with a wind project in the Bethlehem portion of the Port of Albany, will create 2,000 well-paying green energy jobs in the city. town.
The wind turbines, built at a port facility, will travel by barge to be installed off Long Island.
"We worked hard and fast," New Scotland supervisor Douglas LaGrange said of the Plug Power project's progress. He added: "We still have work to do."
Plug Power develops and manufactures hydrogen fuel cells, designed to replace conventional batteries used in forklifts and pallet trucks. The Vista Park facility will include 200,000 square feet of manufacturing space, a 100,000 square foot building to service units; and 50,000 square feet of office space.
Hochul hailed the "working men and women" at work at the site and said as a child she played with Legos more than dolls.
She called Plug Power's hydrogen fuel cell technology "brilliant" and said, "I also like that it's about jobs."
Plug Power is committed to creating 1,633 new jobs and retaining an additional 701 jobs in Albany County for green power generation.
When they finished speaking, the politicians lined up behind a row of shovels and a sign that read, "Green Jobs, Green Economy: A New Era for New York."
Each picked up a shovel and, while the cameras recorded the inauguration, threw shovels of dirt.