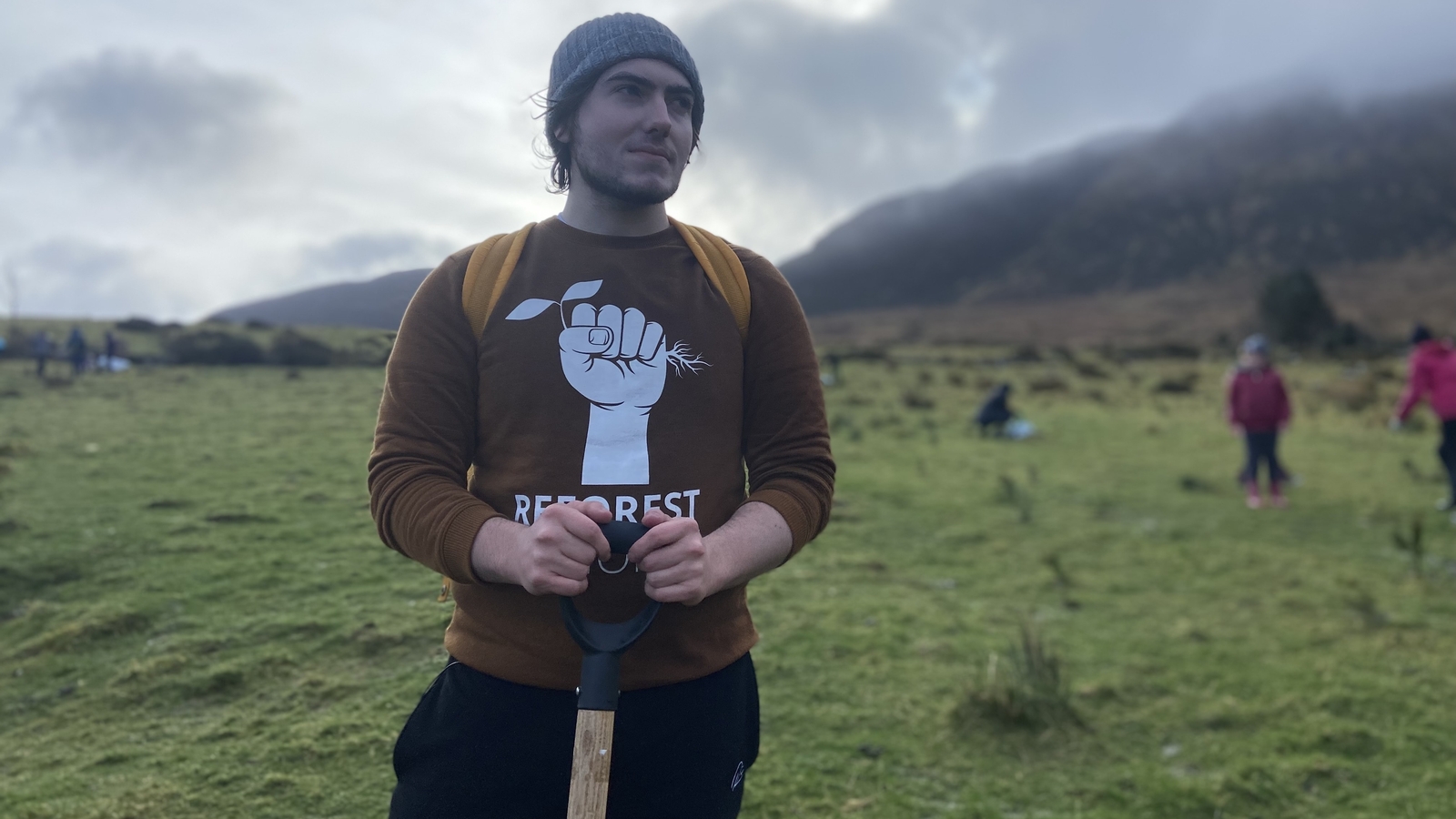 Biologist planting thousands of trees in a national park
Gearóid McEvoy grew up on a mixed cattle, goat, pig and turkey farm in Termonfeckin, County Louth.
It may have been the unusual mix of farm animals that gave Gearóid his very unique outlook, but something definitely set him on a mission.
He accepts that he may not be able to change the world, but he is convinced that he can improve it, one tree at a time.
Gearóid studied wildlife biology at the Tralee Institute of Technology, now Munster University of Technology, but long before that – from around the age of six, he says – he was fascinated by nature and people like David Attenborough.
Two years ago, Gearóid created what he describes as a social enterprise called Reforest Nation, through which businesses and the public can contribute to the purchase and planting of native tree species.
Since then, he said, Reforest Nation has harvested enough to plant 100,000 trees: 35,000 in Ireland and the rest in Africa, Asia and Central America.
Reforest Nation aims to restore Ireland's native forests, one tree at a time. Its goal is to plant one million trees worldwide by 2024.
This weekend that work is continuing in Killarney, County Kerry, in an attempt to undo the damage caused by the Gorse Fires which have scorched and severely damaged 2,500 hectares of priority habitat in Killarney National Park last April.
Scots pine, birch and oak are among about ten native tree species planted. More than 50 volunteers take part in the work, some of them coming from as far away as France.
Gearóid said he took nothing from Reforest Nation in its first year, with all funds raised going directly to buying and planting saplings.
This year he said he would take a small salary – less than €20,000 – and he promised to publish his accounts by the end of this year.
He said he appreciated the need for transparency and described Reforest Nation's goals as "wildly ambitious".
Aged 17, Gearóid spent a summer volunteering with Louth Nature Trust and Birdwatch Ireland on their little tern conservation project.
He spent 2019 volunteering for the Greek Society for the Protection of Sea Turtles, and in 2021 he worked at an animal rescue center in Costa Rica, rehabilitating injured jungle animals. Along the way, he also spent four years studying wildlife biology in Tralee.
He had planned to return to Costa Rica a year earlier, but Covid intervened. On the suggestion of his father, he created Reforest Nation.
"I thought that in my short time I could do as much good as possible to restore the natural forests, because I know how badly they have been damaged and I can't think of anything more meaningful to me in my life. life than restoring our forests and encouraging others to do so too," said Gearóid.
"If we can create a forest that is diverse in native tree species, it can help facilitate diversity at all levels of the ecosystem."
"I spent four years in Tralee studying wildlife biology. Almost every two or three weeks we would go to Killarney National Park so I got to know it and developed a real love and a connection with the place.
"I knew with this project I wanted to contribute to Kerry, I remember always imagining the vast Scots pine/oak forests that once covered the Slieve Mish and the mountains of the Iveragh Peninsula."
Last weekend, Gearóid and a small team of volunteers planted 2,500 trees of native species in the foothills of McGillycuddy Reeks, in the shadow of Ireland's highest mountain, Carrauntoohil.
This weekend, they are planting 3,500 more.
The trees are planted on a four-acre site at Carrauntoohil Eco Farm, owned by Vikki Cullen. The area is perfect for reforestation: Vikki runs a camping and glamping site on the 10-acre farm. The trees will provide protection from the elements, while improving the wildlife habitat there.
"It's about giving something back to nature and the environment," Vikki said.
Gearoid's work in Killarney will not end with this weekend's effort. He said he would be back soon, planting one tree at a time.
"After seeing how the fires had destroyed so much of the places I spent time I was compelled to want to do more. That's why we started our campaign to plant 6,000 trees in Killarney ", he added.