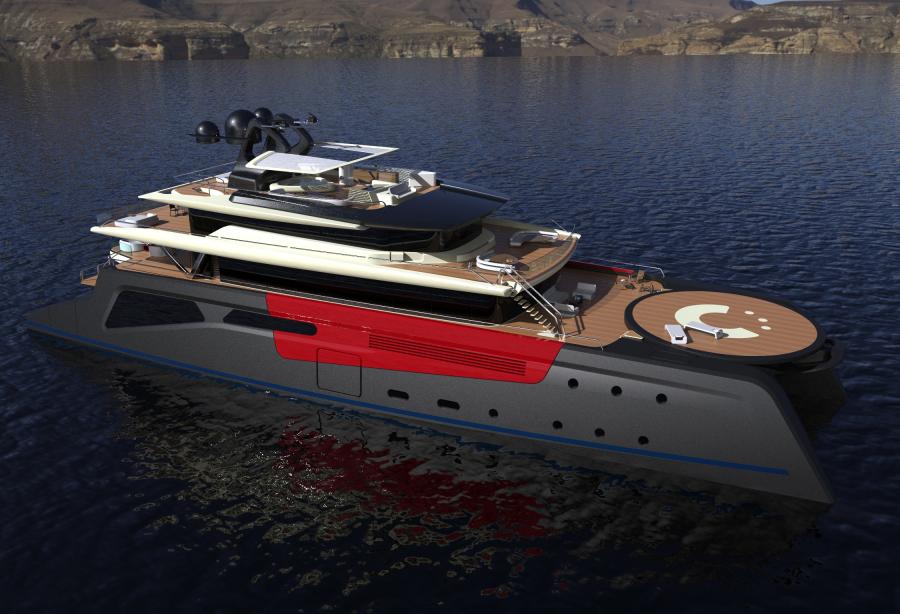 Catamaran Cynthesis 180 unveiled by Alexandre Thiriat and Christian Leyk
Cynthesis 180 is the result of a close collaboration with a renowned shipyard that seeks to be part of future trends and beyond, both on technologies, ecology and lifestyle on a yacht.

The concept and the interior come from the experience of Alexandre Thiriat in yachting, and Christian Leyk from Coquine! [design] who wrote her exterior. Preliminary naval architecture Nicolas Fauroux. The idea is now to develop a range of medium-sized motor catamarans, starting with this 180′.
The catamaran is 17m wide and offers plenty of space on board. The ship can accommodate up to 12 people. The interiors are fully customizable and designed with five or six cabins, a double height saloon or two separate saloons. Each VIP stateroom will have a private double-height beach club lounge, sundeck and fold-down bulwark.
Owner oriented and adapted to the client's choices, allowing space, comfort, style, privacy and personality. (compared to a 200 foot monohull) and will have a private swimming pool, making three places to relax in total – one owner, one for guests and a hot tub located on the upper deck.
The catamaran's shallow draft – 2.3m – allows her to explore shallow draft areas, such as the Bahamas.
Each deck space offers several areas for socializing, for example, two dining areas are found on the bridge deck surrounded by sunbathing areas aft.
She has a D11 helipad at the bow and a bathing platform at the water's edge. The Cynthesis 180 is an eco-oriented vessel, which will be built in the most ecological way possible.
The Cynthesis 180 will have a range of 5,000 nautical miles at 8 knots and cruise comfortably at 12 knots.
Credits: Alexandre Thiriat