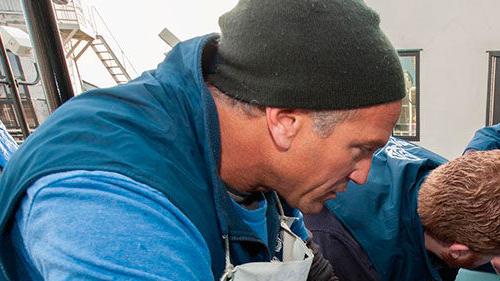 Marine biologist Kevin Lewand has never taken the ocean for granted and made it his playground and his career. | Face to face
Everything about Kevin Lewand's appearance is marked by the sun. Her blonde hair is messy and bleached from the sun, her tan is one that never fades. Even her little house in Monterey smells of sea water and sand; dozens of cookbooks in the kitchen speak of his love for seafood. The first thing that strikes a visitor is the dreamlike treehouse Lewand built for his daughter in the front yard. She's a teenager now and the treehouse is mostly secluded, but they both love to surf and often do it together. The second thing that strikes a visitor is the amount of surfboards around the house.
Hailing from Santa Monica, Lewand, 52, is a Californian kid who has always been around water. Before joining the Monterey Bay Aquarium 20 years ago as a collector, he attended school in Santa Barbara and San Diego and studied marine biology and hydrobiology. Now he's "taking stuff in the ocean" for the Monterey Bay Aquarium. He collects whatever they assign to him – mahi mahi, tuna, jellyfish, plankton. Most are samples for scientific research.
It wasn't always the plan. When Lewand was 19, he met a surfer in San Diego who told him he was going to Bali and asked if Lewand wanted to go. "Damn yeah" was the only logical answer. The guy was a doctor – exactly what Lewand wanted to do with his life at the time. In Bali he met Australians and thanks to them he found work on a boat that sailed between Java and Zimbabwe and that was his summer job at university.
Weekly: While being a marine biologist in Monterey isn't a total rarity, it's a job kids often dream of, almost as much as being a soccer player. What's your story?
Lewand: It was more of a fluke. At that time, I had just graduated from college and thought I was going to medical school. For fun, I used to love surfing and love being around the ocean, no doubt, but I didn't really think I would do what I'm doing today. Never had a passion for aquariums. Some kids know this right away and want to work with dolphins and whales, but I had no idea.
What brought you to Monterey?
For a few years my plan was to join the Peace Corps and work in the fishery. They were going to take me to Africa, but eventually all places resisted. Lots of work at the university, at night, bartender, waiters at tables, trying to pay for school. I had a lot of student loans and was looking for a part-time job. I also had a lot of experience in scuba diving. So I started working for the San Francisco Aquarium and going underwater. Some people say they like to be in the water, but that's not true. It has always been easy for me. I swam with white sharks near the Farallon Islands. Then I worked in San Diego, then Monterey got a job.
What would happen if you stayed a few days away from the ocean?
Do you want me to get cranky? Don't get me wrong, I love to see the world, I just prefer to see the world with the ocean next to it. It feels good to see the ocean everyday. The funny thing is that my parents are from Ohio; I can't even imagine… I never took the ocean for granted and I've always been to cool places around the world that are near the ocean. Covid has been a drag. I go to Bali every year during the full moon in May, but now it's difficult. We were to be in Madagascar this summer.
What did you do instead?
I visited some places in eastern Oregon and eastern Washington. Did I like it? Yes. But I didn't like him.
Can you identify the best place in the world to surf?
Everyone has their beaches. There are a few places for me. There is the palace I was talking about in Bali. In fact, it's on Java. They call it G-Land. You leave Bali on the boat and it takes forever as the people, who take care of the surfers, stop to pray. Sometimes I go there during Ramadan, and it's hard to watch people work. When you arrive you are in the jungle. You sleep in a hut and there are monkeys everywhere. There are no supermarkets. It is as if you have left your normal madness of the world. Indonesian food is very good and some of the best beaches are there. Another place is Fiji, but it is a bit more expensive for a surfer. But the waves are still beautiful.
So what's your favorite aquatic activity?
Surfing, no doubt. I would surf until I died.