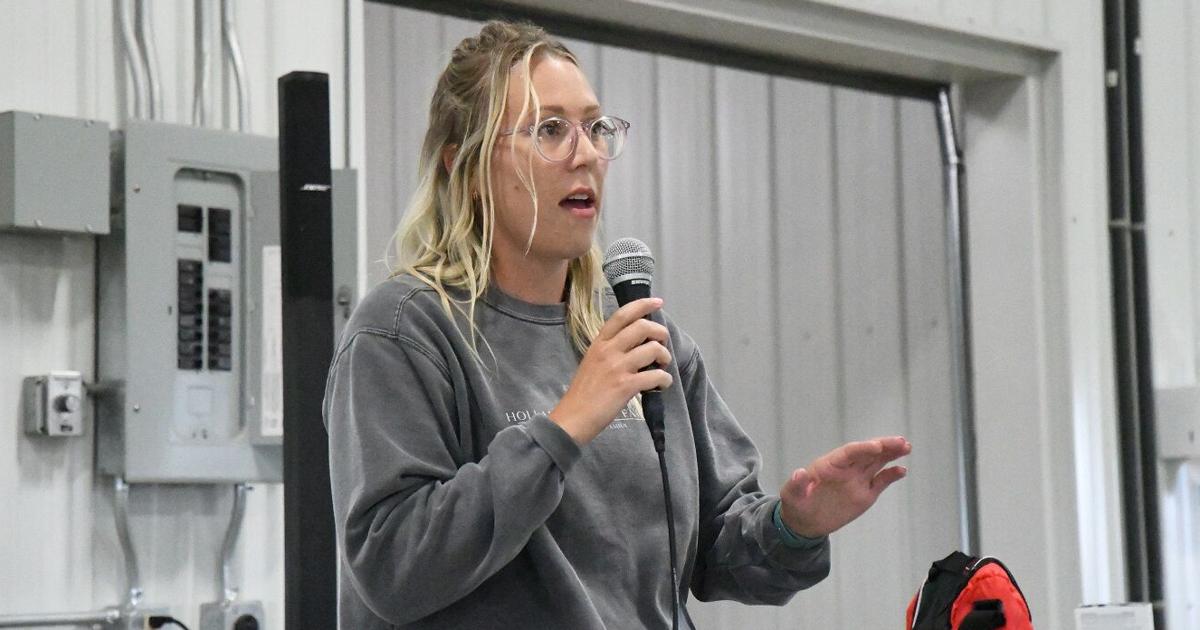 Moret talks about flowers at the Sutherland farm | New
SUTHERLAND—Jade Moret changed the minds of a number of high school students on Thursday, Sept. 8, about whether or not floriculture is a form of agriculture.
The 30-year-old owner of Holland Flower Farm near Sioux Center spoke about the origin and operation of her flower business as a guest speaker at Precision Agriculture and Animal Science Days.
The three-day agriculture-focused event was held Tuesday through Thursday, September 6-8, at the Northwest Iowa Research and Demonstration Farm in southwest Sutherland. About 50 students from Spencer High School and Western Christian High School in Hull attended Thursday.
After graduating from Sioux Center High School in 2011, Moret knew she wanted to do something in agriculture. She had grown up on a small acreage and participated in 4-H and FFA.
"I always remember thinking, 'Where do I fit in farming if I don't like corn and soybeans or cows and pigs?' ", she said.
Moret first attended Iowa State University in Ames to study animal ecology. She later abandoned this plan after transferring a few times and eventually enrolling at Dordt College in her hometown.
She received her bachelor's degree in agricultural missions, which combines aspects of agriculture, business, ministry and community development.
During her summer break between college years, Moret interned across the country to gain hands-on experience with her major. One internship, for example, was in Denver with a newly planted church. Moret helped the church with its community gardens around town. Another internship took Moret to Visalia, California, where she worked at a homeless shelter that also had a community garden.
The recurring theme of gardening in his internships is what sparked Moret's passion for plants.
"It started to click, and it really started to make sense. That's when I was like, 'OK, I think I'm onto something here, and for the first time in my life, something is coming to me very easily,' she said. .
Moret held various jobs around the Sioux Center after graduating from Dordt, including a three-year stint as a college administrative assistant. Moret also took a Masters in Gardening course through ISU Extension and Outreach to further develop her skills in horticulture.
In the fall of 2018, she took the plunge and plowed about an acre of her parents' unused pasture to start her flower farm, starting with tulips and daffodils.
"I thought I was just crazy when I planted those first 300 tulip bulbs, and now this year we've harvested over 10,000 tulip bulbs," Moret said. "I hope to be up to 20,000 in the next two years."
Its flower field has since grown to about an acre and a half and produces about 400 varieties of flowers throughout the year. She employs three full-time workers — the first of whom was hired in June — and seven part-time workers who help her in the summer.
Holland Flower Farm sells flowers in many ways and for many purposes. For example, he sells to floral workshop programs, farmers markets, community-supported agriculture programs, and weddings. It also sells bulk orders to customers.
Weddings are something Moret originally didn't want to do with his business, but found them particularly profitable.
"Once you start getting more into the business side and typing in numbers, you realize that there are things that make you a lot more money than other things," she said.
Moret plans to invest in a greenhouse later this year to use as a flower nursery. For now, however, she is starting to grow seeds in her basement using grow lights before transplanting them outside.
The planting and growing schedule for the flower farm runs from around January to October, as some varieties take longer to grow than others.
"With flower production and 400 different varieties, you are constantly planting and harvesting, always in the same season," Moret said.
Another new development for the farm is a design studio it is building. The structure will include a 10-by-18-foot single-storey cooler, which she says will be a game-changer.
Some of the challenges Moret has faced in terms of flower growth include the intrusion of grasshoppers and instances where his plants won't germinate.
"There was a dried flower that was our best-selling flower last season and not a single seed germinated this year, so we planted more of the other stuff," she said.
"We just roll with the punches. Which is to say, being a small business owner is constantly taking the beating.