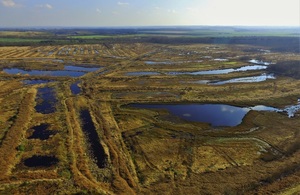 Peat sales will stop in 2024 to save peatlands and ecology
The The government said today that from 2024 no peat will be sold to home gardeners in England (Saturday August 27).
The largest carbon storage area in the UK is a peat bog, although only 13% of it is in near-natural condition.
Drainage for agricultural purposes, excessive grazing and burning, and extraction for use as growing material are all responsible for this deterioration.
70% of peat supplied to the UK is packaged for retail use as a growing medium, and it is often mismanaged. For example, it is widely used as a soil conditioner rather than a growing medium for plants.
The carbon in the bog is released as carbon dioxide during this extraction, which contributes to climate change.
Peat extraction is also deteriorating the condition of the larger peatland ecosystem, harming the habitats of some of our most endangered animals, such as the swallowtail butterfly, hen harrier and short-eared owl, and altering peat's ability to filter water and prevent flooding.
The UK's water supply passes through or settles in peatlands in substantial quantities.
The actions made public today will contribute to efforts to achieve net zero and our ambitious goal of reclaiming 35,000 hectares of peatlands by 2025.
An intensive public inquiry that garnered over 5,000 responses and a majority of over 95% in favor of government action to ban the retail sale of peat led to the announcement.
Recognizing that the professional horticulture industry faces additional technical hurdles that will take longer to overcome, the government has also pledged to continue to work closely with the sector to accelerate the transition to peat-free alternatives before a prohibition for the sector.
A new $5 million fund is also being set up by the government to encourage the use of peatlands for sustainable agriculture. Malaria cultivation, or agriculture on re-wet peatlands, will thus be encouraged, helping to better protect food security, provide substitutes for horticultural peat and mitigate the effects on the environment.
Richard Benyon, the Minister for the Environment, said:
This government is aware of the importance of maintaining healthy peatlands both locally and globally in order to store carbon, increase drought resistance and act as a powerful natural countermeasure to climate change.
As part of our promises to reach Net Zero and implement our 25-year environmental plan, the measures announced today open a new chapter in the history of our famous peatlands by ensuring their long-term health and vibrancy. term.
Tony Juniper, Chairman of Natural England, said:
Peatlands are invaluable ecosystems that are home to beautiful and unique wildlife, help purify water, create distinctive vistas and reduce the risk of flooding.
With a capacity of over 580 million tonnes, they are also our largest natural carbon sinks.
An important step in saving these invaluable natural resources and enabling the rehabilitation of damaged areas is the restriction of the sale of peat-based compost and the effort to phase it out in other places.
We have donated over £11million to restore lowland sites in South West England and highland sites in North England as part of our ongoing efforts to restore thousands hectares of peatland ecosystems on the ground alongside Defra and partners.
In addition to storing carbon, these initiatives will contribute to the recovery of some of our most endangered animals, reduce the risk of flooding and make landscapes more resilient to the effects of climate change, such as drought and fire.
The Director of Science and Collections at the Royal Horticultural Society, Professor Alistair Griffiths, said:
The largest terrestrial carbon sink in the world, peatlands have a significant capacity to store carbon over a long period and contribute to net zero emissions.
When re-wet, they reduce the risk of flooding, reduce the risk of fire, and provide beneficial habitats for plants and animals.
It is crucial that we make a sustainable transition to an alternative growth medium devoid of peat in order to meet climate and biodiversity challenges.
The RHS has discontinued the sale of bags of peat growing media in 2019 and will continue to work with Defra, businesses and gardeners to accelerate the transition to peat-free media.
Natural England has today awarded around £11million to six projects through the second round of the Nature for Climate Fund peatland restoration grant to support restoration efforts on more than 7,000 hectares of peatland, in addition to over 8,000 hectares previously supported in the first round.
The Great North Bog and Moors for the Future partnerships have restored upland sites in the north of England, while the Somerset Peatland Partnership has come together to restore lowland sites in the south west. The second round of the restoration grant funded a mix of lowland and highland restoration operations.
The recipients of our second round of Discovery Grants will also be announced soon.
The development of new horticultural substitutes for peat, including those derived from malaria cultivation, offers England the opportunity to preserve the environment through the creation of green jobs and to take the lead in the manufacture and export of sustainable growth substrates.
↯↯↯

Read more on the subject on TDPel Media ↯↯↯
Related