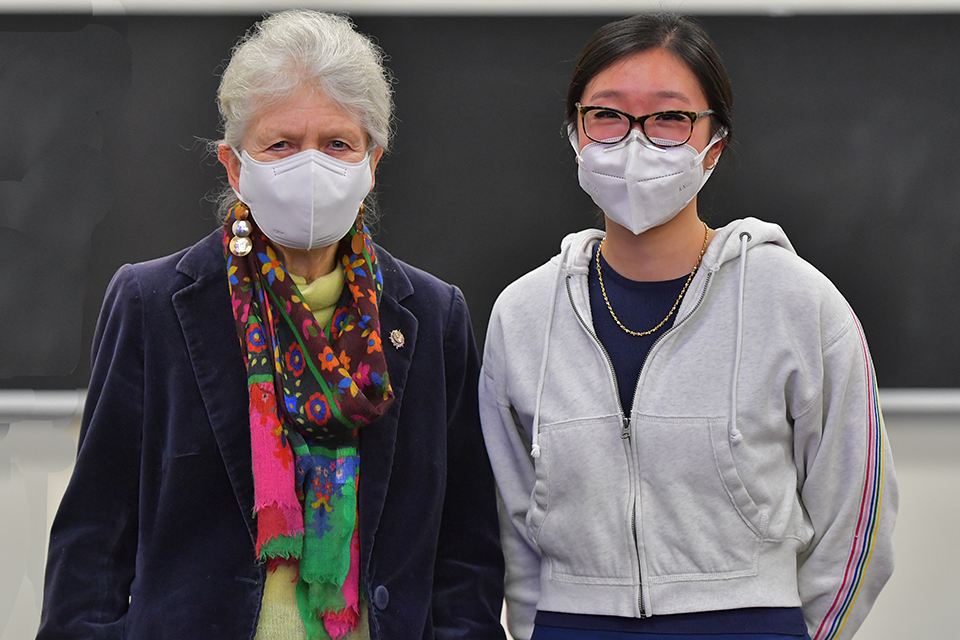 Pioneering scientist discusses importance of RNA at Haldar conference
February 9, 2022
St. John's University hosted one of the world's foremost experts in RNA at the Dr. Jaya Haldar Memorial Seminar on February 2 on the campus in Queens, NY. A pioneer in her field, Joan Steitz, Ph.D., Sterling Professor of Molecular Biophysics and Biochemistry at the Yale School of Medicine, discussed "Viral Noncoding RNAs: New Functions, New Structures."
In 2015, the seminary was endowed by Dipak Haldar, Ph.D., in memory of the late Jaya Haldar, Ph.D., a retired full-time professor at St. John's University. Dr. Haldar, a faculty member in the Department of Biological Sciences, has focused her research on the posterior pituitary hormones, oxytocin and vasopressin, and understanding the role of oxytocin in the spinal cord.
Dr. Steitz is best known for her groundbreaking work on RNA. With one of her students, she discovered and defined the function of small ribonucleoproteins (snRNPs) in premessenger RNA – the first product of DNA transcription – and was the first to learn that these cellular complexes ( snRNP) play a key role in messenger RNA processing. by excising the non-coding regions and splicing the resulting segments together.
When Dr. Steitz's husband received a scholarship to Cambridge University in the UK, she accompanied him to do his postgraduate studies there. "But nobody knew what to do with me," she said.
After talking to other postdoctoral students, all of them male, she accepted an intriguing project that none of them were ready to undertake for fear of not solving it: the idea of ​​labeling an mRNA and to bind ribosomes to it, to sequence where the ribosomes started on an mRNA. "They were afraid of not being able to solve this problem and of not finding work in the United States. I did not expect to find a job. I was a woman. I would be a research associate in someone else's lab.
After returning to the United States, Dr. Steitz opened his own laboratory at Yale. "We were mostly interested in the translation," noted Dr. Steitz. "The way I went from translation to RNA processing has a lot to do with how advanced molecular biology thinking was in the early 1970s. It was a time when we knew the basics of DNA replication and how RNA was transcribed with DNA.
She added: "Most people considered the golden age of molecular biology to be over because we knew all this." However, Dr. Steitz's work has significantly advanced the understanding of RNA.
"Meeting Dr. Steitz and hearing him speak was an incredible opportunity, especially because I also do research in RNA biology in a lab here in St. John's," said Elizabeth Chu, an undergraduate student in biology.
"A growing body of evidence in recent years has shown the importance of non-coding RNA under normal physiological conditions, and Dr. Steitz has certainly reinforced this with his recent work."
She added: "Beyond her contributions to the biological sciences, I reflected on Dr Steitz's pragmatic yet joyful approach to life, despite the many challenges she faced as a pioneer in the biology of RNA. It's a stark reminder of recent progress on equity and diversity, and how much work remains to be done.
Sharona Priyev, a student in the BS/MS program in biology, was fascinated by Dr. Steitz's lecture. "I found the whole idea of ​​complementary base pairs to be really revolutionary," he said. "And meeting his discoverer, as well as delving deeper into his duties, was great."
Desiree Sukhram, a graduate student earning a Master of Science in Biology, said, "It was an honor to listen to Dr. Steitz and speak with her afterwards. It's so easy to forget how recently women were considered a side note in scientific history, only able to help their male colleagues. Her career bears witness to how far our field has come in terms of equality. As a young woman of color working on my PhD, I am excited about the future of women scientists.
"Through Dr. Steitz's insightful lecture, I learned that the cellular genome is too big to perform a specific function," noted graduate student in biology Marjola Deda. "Furthermore, I believe his extensive work on non-coding viral RNA is astounding. I'm so happy that a woman scientist has such a big impact on all of us.