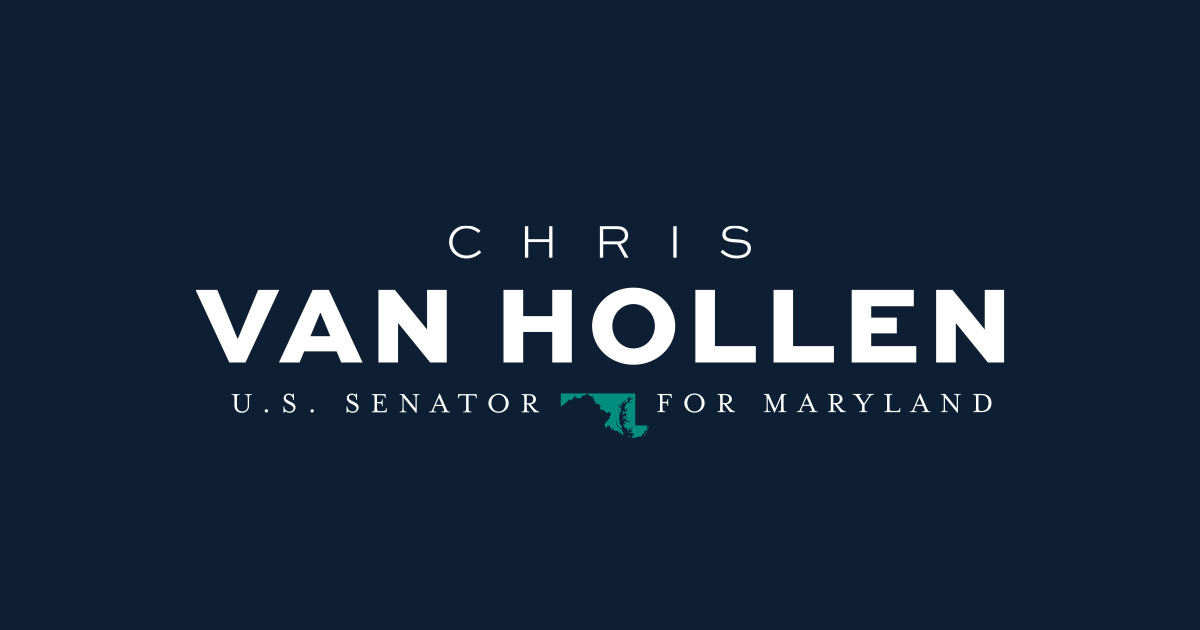 Van Hollen and Cardin Secure More Than $11 Million in Direct Investments for Community Projects in Anne Arundel County and Southern Maryland as Part of Fiscal 2022 Funding Bill
March 11, 2022
Today, US Senators Chris Van Hollen and Ben Cardin (both D-Md.) announced that more $11 million in direct federal funding for local projects in Anne Arundel County and the southern Maryland region was included in omnibus funding legislation for fiscal year 2022, which senators voted on Thursday night. Overall, senators secured more than $104 million in federal dollars directly for Maryland in the omnibus. The bill now goes to President Biden to be signed into law.
"Making direct federal investments in our communities helps create opportunities, create jobs and grow our economy. Together with local leaders in Anne Arundel County and the Southern Maryland region, we have identified these projects that will strengthen our communities by modernizing our infrastructure and expanding transit options," said Senator Van Hollen, a member of the appropriations committee. "We look forward to bringing these funds across the finish line and delivering these investments to southern Maryland."
"We worked with local officials and organizations in Anne Arundel County and southern Maryland to identify projects that could benefit from a strong federal partner. Congressional-directed spending is one of the best tools for maximizing how we use taxpayer dollars where it can make a real difference for Maryland and the region," said Senator Cardin.
Funding secured by the Senators includes:

$8 million for infrastructure improvements,

including for the Charles-Prince George Southern Maryland Rapid Transit (SMRT) project, MD 4 Corridor and Thomas Johnson Bridge capacity improvements, and stormwater management infrastructure in the county by Anne Arundel

$2.5 million for community development initiatives,

including for Girl Scouts of Central Maryland Inc., Outdoor Programs, and Elktonia/Carr's Beach, both located in Annapolis

$610,000

for the Charles County Body Worn Camera Project

$95,000

for the Potomac River National Marine Sanctuary Virtual 3-D Paddle Experience in Mallows Bay
INFRASTRUCTURES AND ECONOMIC DEVELOPMENT
Project Name: Southern Maryland Rapid Transit Project
Project Location: Southern Maryland
Applicant: Charles County Department of Planning and Growth
Amount received: $5,000,000
Description: $5 million in congressional-directed expenditures to support the design, engineering, and National Environmental Policy Act (NEPA) process, and obtain a record of decision for the development of a 19-mile high-capacity, fixed-route transit from Camp Springs Avenue Subway Station branch to Waldorf/White Plains. The SMRT Transit Corridor benefits the resident population of approximately 439,000 people with an estimated ridership of 28,000 people in Prince George and Charles Counties. This high-capacity transit service will alleviate one of the worst documented commutes in the country, spur job growth in regional hubs, help correct the job imbalance between the west and east sides of the metropolitan area of ​​DC and invigorate the economy of Maryland. . As the only area west of the Chesapeake Bay without high-capacity public transit, this project is critical in bringing much-needed relief to an area mostly confined to two restricted highway corridors. Completion of this project will ultimately bring economic and racial equity to this majority minority region through job creation and access to employment. The increase in employment and property values ​​resulting from rapid transit is expected to increase the tax base by $5 billion to $6 billion, which in itself would cover the construction cost of the project.
Project Name: MD 4 Corridor and Thomas Johnson Bridge Capacity Improvement Project
Project location: Solomons, MD
Applicant: Maryland Department of Transportation
Amount received: $1,000,000
Description: The funds will be used to continue the design of the St. Mary's County Priority Transportation Project, which includes widening sections of the MD 4 and replacing the functionally obsolete MD 4 Thomas Johnson Bridge. The completed project will improve safety and capacity for commuters in an increasingly congested corridor and ensure access to Naval Air Station Patuxent River.
Project Name: Improvements to Stormwater Management Infrastructure in Anne Arundel County, MD
Project location: Anne Arundel County, Maryland
Claimant: County of Anne Arundel
Amount received: $2,000,000
Description: Funding will support the design and construction of stormwater management infrastructure improvements in Patapsco Tidal Streams, nearby weirs and ponds needed to comply with federal and state water requirements own.
COMMUNITY DEVELOPMENT, HISTORICAL AND CULTURAL INITIATIVES
Project Name: Girl Scouts of Central Maryland Inc., Outdoor Programs
Project location: Annapolis, MD
Applicant: Girl Scouts of Central Maryland, Inc.
Amount received: $500,000
Description: Funds will be used to renovate Girl Scouts Camp Woodlands in Annapolis to expand access for underserved families and people with disabilities while improving stormwater management to protect the shoreline in the bay's watershed of Chesapeake.
Project Name: Elktonia/Carr's Beach in Annapolis, MD
Project location: Annapolis, Maryland
Applicant: City of Annapolis, Maryland
Amount received: $2,000,000
Description: Funding will enable the City of Annapolis to implement planning, resiliency and park development of the last remnant of historic Elktonia/Carr's Beach, the last private beach on the bay used when anti-racism -black denied African Americans access to segregated beaches and facilities. . This will follow on from the publicly funded land acquisition of the site and will contribute to the operation, management and preservation of a natural, recreational, historic and cultural resource.
PUBLIC SECURITY
Project Name: Charles County Body Worn Camera Project
Project location: La Plata, MD
Claimant: Charles County
Amount received: $610,000
Description: Funds will be used to implement a body-worn camera program and equip 215 officers with cameras.
CHESAPEAKE BAY AND ENVIRONMENT
Project Name: Mallows Bay – Potomac River National Marine Sanctuary 3D Virtual Paddling Experience
Project location: Charles County, Maryland
Applicant: National Marine Sanctuary Mallows Bay – Potomac River
Amount received: $95,000
Description: This funding will support the first new National Marine Sanctuary in over 20 years and allow NOAA to begin work on a 3D virtual paddling experience, similar to experiences at other National Marine Sanctuary designated sites where visitors can see the nearly 200 Ghost Fleet ships. This would allow the collection of high-resolution images of significant shipwrecks and ecology to be used for web tours and to create user-focused virtual reality and augmented reality experiences. These experiences would be complemented by web-accessible interpretive materials that would help connect the history, ecology, and generations of local heritage along the Potomac River.