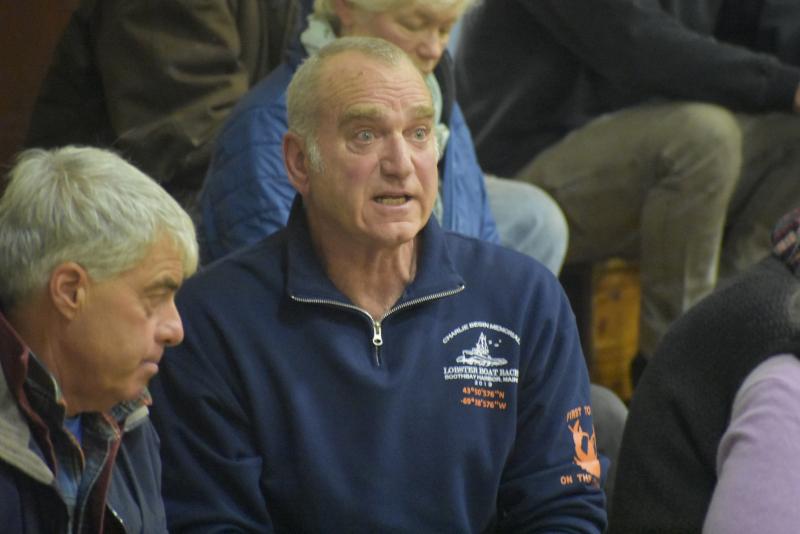 'We fucked up,' NEAV told angry East Boothbay community
New England Aqua Ventus met with residents of East Boothbay on December 2-3 regarding concerns over recent unannounced investigative work for an underground cable. The Diamond Offshore / RWE Renewables / University of Maine partnership engaged teams from SGC Engineering and Ransom Engineering to conduct surveys and drill samples along the Murray Hill Road / Mass Avenue areas which included Victoria Street and Sunset Drive. Work began on November 11 with the sole notice of a press release dated two days in advance and published the same day. The project has already been a source of local discord.
The surveys will help inform plans to connect a three-phase power line from the shore of the Bigelow Laboratory in East Boothbay along Route 96 to the Boothbay Harbor Central Power Substation at the intersection of Routes 96 and 27 The purpose of the line is to connect a wind turbine whose installation is planned off the island of Monhegan.
Diamond Offshore CEO Chris Wisseman, Diamond COO David Deutsch and Project Manager Duncan McEachern were met by around 30 residents of the East Boothbay Fire Hall on December 2 and over 50s at the YMCA in the region from Boothbay on December 3. The start of both meetings went much the same way. with apologies from NEAV management, a project overview and an explanation of the current phase of the project. The remainder of each two-plus hour meeting was filled with unified anger, blame, and a demand for answers.
However, given that investigative work has just been completed and reporting is not yet complete, Wisseman said there were still no answers on where the route will go and how the line will be connected. at the substation. So while the meeting is late due to miscommunication from NEAV, it is also premature, he said.
"We hold this meeting largely out of courtesy to the community. A number of community members said, "Hey you really owe the community to tell them what's going on… We want to be a lot more neighbors than that in the future. This is not a good start… We screwed up.
Cable installations won't begin until fall 2023 at the earliest, Wisseman said. The target date was chosen, as most have been, to avoid the peak tourist season in the region. The reason the cable was buried was the assumption that residents would not want to see more power lines above their heads; and the surveying job was to find any ledge that might force blasting on that road, Wisseman said. Blasting is the last option for building a route, he said.
Ideally, the cable trench will be dug 18 inches deep and 18 inches wide for six to eight inch PVC-type pipe to carry the cable. In swampy areas, the trench could be dug more like three feet by three feet to account for debris sliding into the dug trench, Wisseman said. The survey along Murray Hill Road, Sunset and Mass Avenues, and Virginia Street was to determine if other routes were technically viable.
"If this is the case, we will come back to discuss with some of you and if this is not the case, we will take this course a little more technically complicated.
When the 20-year project is completed and if not renewed, the seabed and underground land cables will be removed unless someone finds a reason to keep them there, he said. . As an approved demonstration project for one of three such sites in the Gulf of Maine, a single turbine will be installed with a device capable of supporting a single turbine, he said.
Like most of the East Boothbay residents who spoke, Andrew Morley was also upset. Bigelow Lab entered into a binding easement without first bringing the community into discussion. Morley said the oblivion may have been due to everyone's greatest intentions, but Bigelow and the community will be the ones to reap the rewards once NEAV lays the groundwork.
Bigelow Laboratory CEO Deborah Bronk apologized for her role in destabilizing the community. The decision to let NEAV lay its cable stems from Bigelow's mission for a more sustainable future, she said. With clearances from NEAV and its board of directors, Bronk said Bigelow accepted $ 50,000 for the easement and an additional $ 10,000 per year over 20 years if NEAV decided to lay the cable there, he said. she declared. Bigelow's understanding was that once the cable left the property, it would continue underground along a public hallway.
"We didn't do this for the money. We've already spent more than that to assess this in staff time… If I could go back and do it differently, I would. I thought about it myself… road works come up and then it goes and I never paid much attention to it, so the amount of angst I have caused to this community is – I am really, really sorry. We were so focused on the water's edge we thought, 'Oh, they're going to bury it. It's good.' Honestly, we thought that would take care of everything. Now clearly I was wrong.
Morley asked Wisseman if the rumors are true that NEAV is looking for property along Highway 96 to install a substation to convert electricity before it reaches the existing substation at Boothbay Harbor. Wisseman said they were looking.
"So the creep is already starting to happen," Morley said. "Just the look in your eyes told me everything I needed to know." Before, we didn't talk about a substation, just a cable. You haven't even signed the deal and there are already more intrusive things on the horizon. Do you see what I'm saying?
"I see the picture you painted," replied Wisseman.
"I didn't paint it, you painted it. I just connected the dots, "Morley said as the room erupted into applause. "I'm not trying to be difficult. I'm just telling you this is how it starts and this is how it ends.
Resident Scott Adams asked Wisseman what everyone can expect NEAV to do in the community despite all the challenges and concerns the project has already caused. Wisseman said having spent summers in Maine since he was a child he has witnessed the collapse of the local ecology and that is why he has worked in the renewable energy industry for 40 years.
"I fundamentally believe we need to stop screwing this planet up. This is what led us to work with Bigelow. RWE, (an) old fashioned company trying to pivot and do the right thing. Mitsubishi, same thing. We do not invest in fossil fuel power plants. In my opinion, we are part of the solution (harnessing)… the money of the big international companies. We're focusing on Maine to try to find solutions in a way that creates jobs for the Mainers.
NEAV is willing to consider the needs of the community as plans for the underground cable come to fruition, Wisseman said. Things like repaving Route 96 and widening the route for bike lanes – both elements of Boothbay's overall plan – have been mentioned, Wisseman said. "We are open ears. Tell us."
At the end of the first meeting, Adams advised the other residents not to get lost in their demands before NEAV had solid plans for its route to the Boothbay Harbor substation. Critics and demands for non-existent plans will only earn them platitudes, he said.
"Until they have a plan, we won't know if they can do it or if they can't do it and what the impact will be… You can separate the plan or at least address the aspects. that you don't like and you have a better negotiating position.
Morley said at the second meeting, before another round of applause: "Thank you for coming to apologize, but there's an old saying that it's easier to ask for forgiveness than for permission… Now I love to see people move here from afar, they move here because they love the way it is here. Unfortunately… you have people who come here and decide we're very backward, we don't know what we're doing, we can't appreciate the big picture, so they decide for us what's right… Bigelow gave to these guys the key to the city with no idea what to do with the door open.