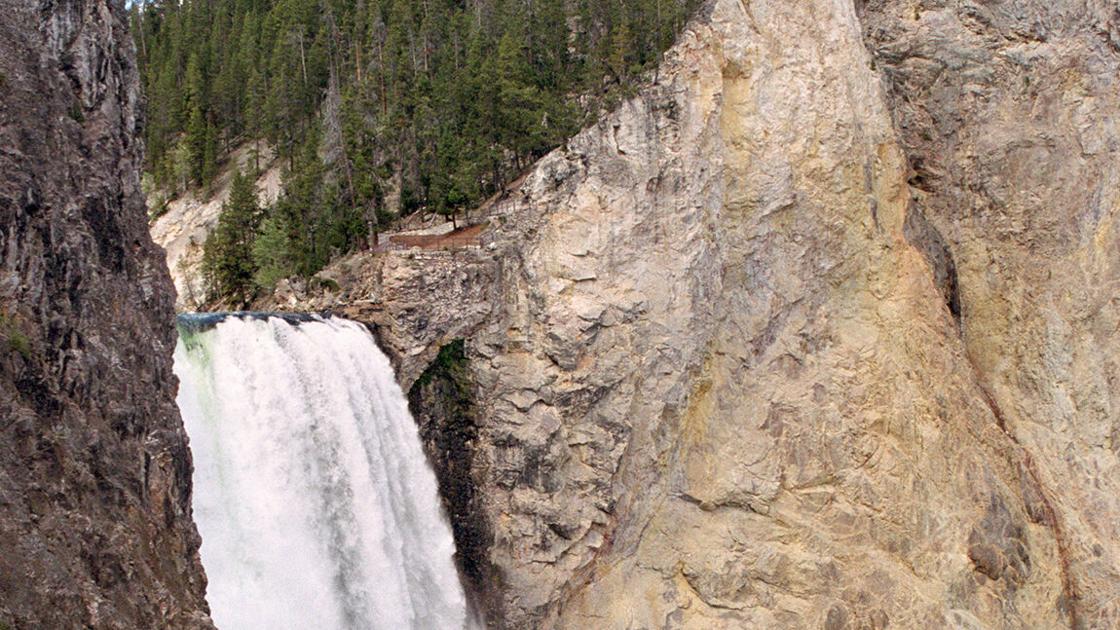 Wyoming Brief News | Regional news
Indiana man banned from Yellowstone after causing unrest
POWELL (WNE) – A 31-year-old Indiana man was sentenced to two months in jail – and banned from Yellowstone National Park for five years – after causing unrest and fighting with guards in the park drunk last week.
Federal prosecutors said Kyle F. Campbell was among a group of people who had scheduled a guided kayak excursion to the Grant Village Marina on June 21. However, the guide refused to take the group because he thought they were too drunk. Campbell and his group then got angry and created a disturbance, prompting the kayak guide to call security guards and law enforcement rangers.
"During the meeting, Campbell made threatening comments and gestures towards the officers," the Wyoming district attorney's office said in a press release. "He was also showing signs of drunkenness and refused to obey the orders of the officers. Campbell continually struggled and kicked the rangers, resisting arrest and later injuring himself by hitting his head in the patrol car.
During a June 23 appearance at the Mammoth courthouse, Campbell pleaded guilty to several criminal charges: disorderly conduct; threatening, resisting and intentionally interfering with any government employee; violate the lawful order of a government employee; being under the influence of alcohol and a controlled substance to a degree that may endanger oneself or others; and contempt of court for refusing to comply with an order of trial judge Carmen to provide a blood sample.
Campbell was sentenced to 60 days in jail and five years of unsupervised probation, with conditions that include staying out of the park.
Cody almost full for the holiday weekend
CODY (WNE) – Cody is almost full. Operators of various accommodations said they were full for the July 4 weekend at least a week in advance.
A representative from the Cody Legacy Inn and Suites said the hotel was full all week, with the exception of one single room that hotel staff left open in an emergency.
Crystal Kelly, receptionist at the front desk at the Beartooth Inn, said her hotel was full for the weekend and there were only two rooms open for July 5 last Friday. Although they have constant bookings filling their schedules throughout July, Kelly said that with a small staff, she performed almost all the necessary tasks in the establishment.
"You do what you have to do," she said.
The new Buffalo Bluff RV Park, just north of the city, has booked its 45 RV sites for the fourth weekend since its website went live a few months ago, said the owner Kelly Hunt. Buffalo Bluff chose an opportune summer to start its business as tourists flock to Cody in record numbers so far.
"We're about 90% full through June and July," said Hunt, "and the few day-to-day sites we have are still full every night.
"We have had a lot of success.
A representative from Absaroka Bay RV Park said it was also full for the fourth.
Renewable fuels company takes a look at Newcastle sawmill
NEWCASTLE (WNE) – Life could be brought back to the old sawmill east of Newcastle after years in limbo if EchoTech Fuels, a California-based company, succeeds.
The private renewable fuels company will meet with Newcastle City Council and the Weston County Commission on Tuesday, July 6 to discuss plans for its Black Hills Advanced Synfuels LLC, the next step in opening a facility locally.
"The project will create at least 80 jobs, plus construction. Because of the job multiplying impact of a project like this, many more jobs will be created in Wyoming to support the plant, "said Linda-Rose Myers, president and founder of the company, according to his LinkedIn profile.
The jobs created would include chemical engineers, skilled labor and entry-level work.
The company discusses the purchase of the old sawmill with Jim Neiman, owner of the sawmill, who Myers says "likes" the idea. The use of rail tracks would be required at the plant and was agreed upon.
EchoTech's team of experts, according to information provided by Myers, has the field-proven ability to convert biological and carbonaceous wastes, including woody biomass, into advanced synthetic fuels.
The local project, Black Hills Advance Synfuels, would convert 500 tonnes per day of diseased and dead woody biomass prone to the fires of the Black Hills National Forest into 1,150 barrels per day of advanced synthetic SAF or diesel.
The total cost of the project is estimated at $ 389 million.
Inspection stops mussel spread in Yellowstone
CODY (WNE) – Shortly after an investigation found that no invasive mussels had spread from aquarium moss balls to Wyoming waters, a Yellowstone National Park boat inspector arrested another possible invasion.
A Yellowstone aquatic invasive species boat inspector found quagga mussels on June 17 on a visitor's boat during a routine AIS inspection at Grant Village, according to a press release from the park. The inspector stopped the launching of the contaminated boat.
Detection of the mussels prevented a major potential release of this highly invasive species into the waters of Yellowstone. If released into park waters, AIS can cause catastrophic ecosystem changes.
Quagga mussels are one of many AIS that pose a serious risk to the ecology, recreation, and economy of the park and beyond.
"Preventing the release of AIS is essential as their control and elimination after establishment in a watershed is generally not possible and efforts to reduce their impact can be extremely costly," a park spokesperson said in a statement. communicated.
To prevent the spread of AIS, park inspectors examine all boats, kayaks, canoes, and float tubes.